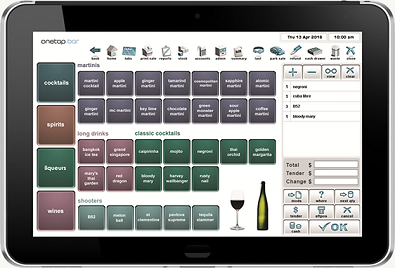 We customise your till to suit your business

Service is speed-ed up immeasurably with good screen design

Open, close and pay for tables simply and quickly

Split bills and accept multiple payments seamlessly
Quick sales – every second counts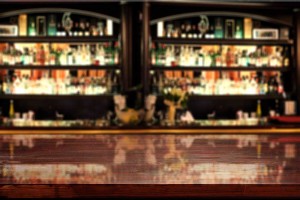 Our intuitive and simple to use screen designer tool gives you unlimited flexibility to customise your POS terminal to your preferences.  We have no limit on the number of menu pages, the number, size and position of buttons. You can also use unlimited images and graphics.
What all of the above means is that your screens can be optimised to best suit your menu and service. You yourself can manage modifiers, combos, discounts, customer accounts, loyalty points, multiple and split tenders.
The process is seamless to set-up and edit. We will set your system up the way you want it to operate and will train you in how to make edits and adjustments yourself as your business develops.
Our front of house POS software is easy to use, fast, efficient and reliable and boasts a comprehensive range of smart and powerful features. The system provides you and your staff with all you need at the till point to deliver outstanding customer service.  This means that you and your staff spend less of your time time processing orders, and more of your time making money.
Smart staff management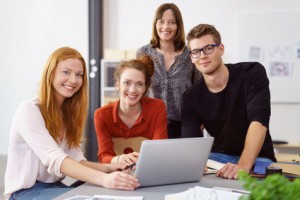 Our system has a built-in has a built in clock in/clock out feature which we supply at no extra charge. This feature allows your staff to log onto the POS terminal by using a variety of methods including swipe cards, proximity tags, finger print scanners, bar codes or magnetic buttons.  This gives you the ability to effortlessly keep track of staff time and attendance.
Our system also allows you to configure what each member of staff member is allows to do including giving a staff member responsibility for a particular till or table. This allows you complete control over what is happening within your business.
Similarly, the system also tracks the number of customers that have been served, the total customer spend, the customer spend per head and number of transactions per staff member. In addition, you can drill right down and see what staff member did what and when they did it. This allows you to settle any issues or concerns as soon as possible.
Tables and tabs – enhancing customer experience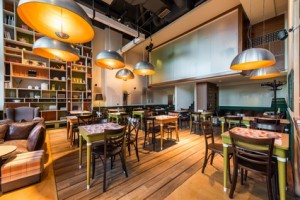 Our system is the market leader at table and tab management. Staff can place multiple orders, for instance a second round of drinks, easily to an existing tab. Customers have the facility to pay separately using our split bill facility.
Spend limits can be set on tabs and tables and the operator notified when a tab limit is reached. This is perfect for parties, funerals etc. Subsidised events can be easily started and easily managed with items being subsidised by the organiser for a set time.
Tricky combos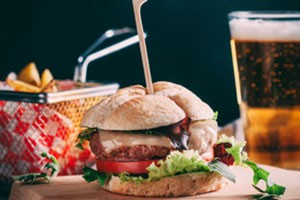 Our system allows you to combine groups of items together which can be sold as one item, eg a burger meal made up of a burger, drink and fries, or half/half pizza combos.
Discounts can be set up to apply to all items in the combo, or to only the lowest or highest priced item. You can also set up the combos so that they are only available at certain times of the day.
You can also run BOGOF offers.
Discount schemes – for happy customers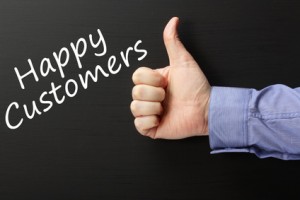 We can set your system up to allow for a wide variety of discount schemes. This includes but is not limited to client/item matrices, happy hour, special events, subsidised events, VIP clients and staff and management discounts.
You can apply a discount at the time of payment, or the discount can be set at the start of the transaction when opening a table or tab.
Fast payments – every millisecond counts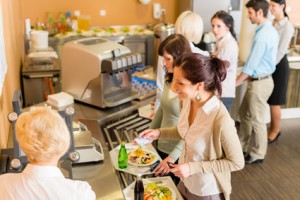 Onetap works with leading payment technology providers around the world, including mobile wallets, so you can choose the best technology for your business.  
Vouchers and tokens are also accepted as legitimate forms of payment. Our POS software integrates with lightning fast EFTPOS solutions, saving time and allowing you to process payments quickly, freeing up your POS terminal to serve the next customer.
Accurate cash management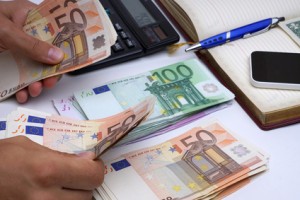 Our POS software allows for shift cash reports by cash drawer to be printed at each individual POS terminal. The cash report includes information on sales by food and beverage, discounts, vouchers and payment totals by tender type.
You can also print a daily statistics report breaks down orders by section such as bar, restaurant inside, restaurant outside, and also provides order detail by food and beverage; the average spend per guest, the total numbers of guests and the number of covers for each section. This means your end of day closing analysis are completed easily and quickly.
Floor plan – world class table service at a glance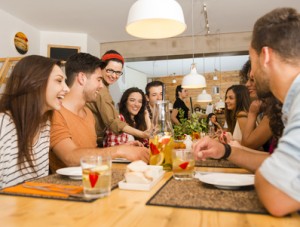 Our floor plan software is the market leader. It provides an intuitive visual representation of your business and the tables or stools in your restaurant, café or bar, showing the status of each at a glance.We can set up different views for the different sections of your business and these can be easily accessible by just touching the screen.
Our system also has an in-built trigger alarm feature which alerts management to ensure that each table receives outstanding service in an efficient manner. The graphical floor plan also shows the order details per table. The favourite feature for most of our customers is the tool that allows you easily merge tables together or transfer orders over to other tables by using your finger to drag and drop the table icons.
Hand helds and tablets – optimising efficiency and service
From decreasing queues at busy outlets, to selling in amongst a crowd, or taking orders in restaurants – onetap mobile solutions help to reduce staff costs, reduce wait times and enhance service. This is especially so in the case of restaurants, due to the ability of waiters to send orders directly from tables in their section, moving from table to table thereby focusing 100% of their time and attention on your customers instead of running sometimes large distances to and from production areas.